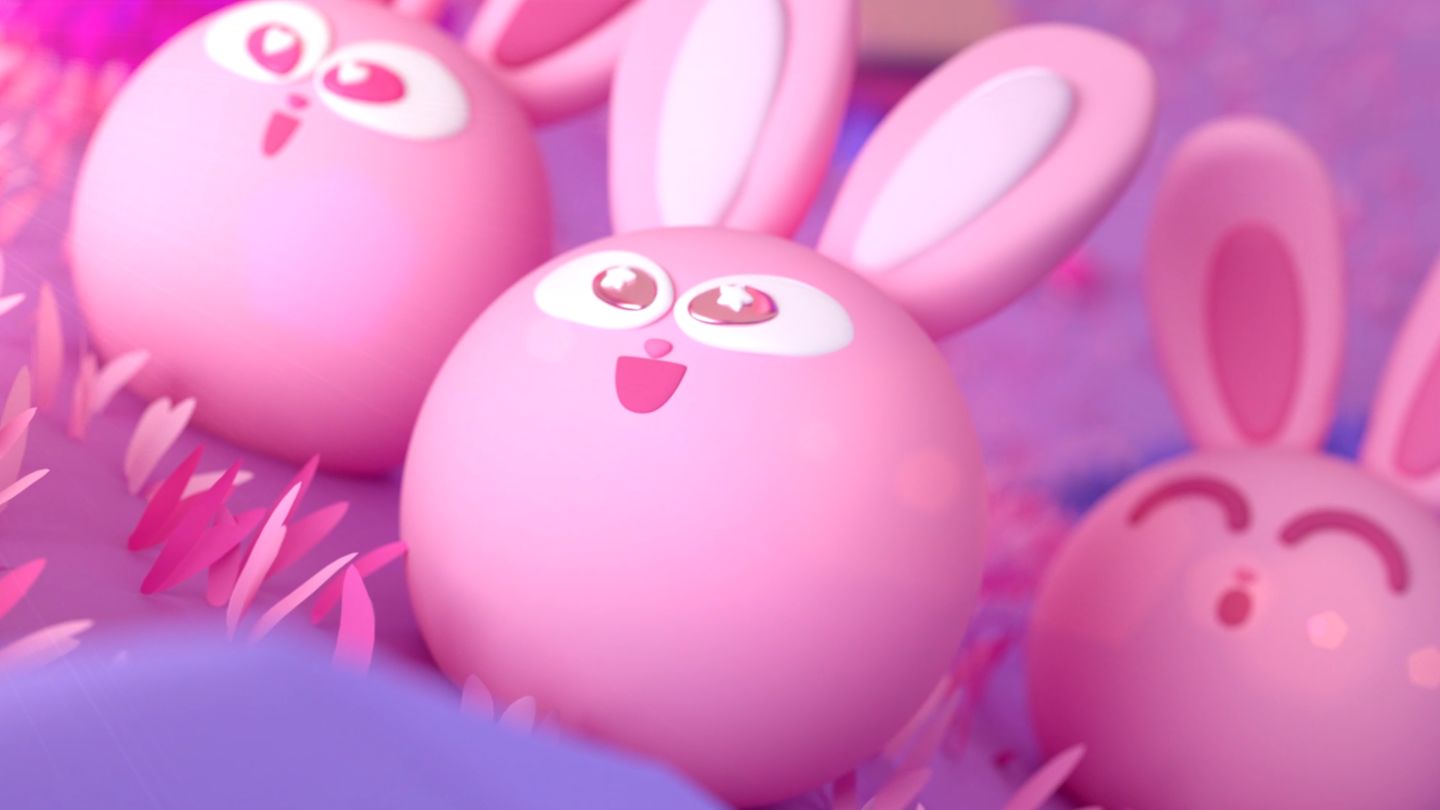 Jaime Álvarez Crafts Candy-Coted Launch for PANTHEPACK
December 15th 2021
Final Frontier created the launch animation, album cover, and visual identity for new supergroup, PANTHEPACK.

PANTHEPACK features Jackson Wang, singer-songwriter and founder of TEAM WANG. In early 2021, under a shroud of mystery, TEAM WANG released DNA, the first song by new four-person group, PANTHEPACK. No names or information were provided, only an image of a cartoon panda head.
Behind the scenes, TEAM WANG approached Final Frontier to create the visual identity and a teaser launch animation to accompany the big reveal of the band members' identities and album launch.
Final Frontier executive producer Chris Colman:

"TEAM WANG wanted the full package: 2D and 3D wordmarks, a redesigned panda head, avatars for the four members, the album cover, and a 20-second 3D animation – all in around 5 weeks. When they shared the references - stylized 3D human figures and a color-drenched fantasy land - Jaime Álvarez was the only director we thought about. The brief seemed made for him".
Teaser Film
Chris Colman:
"There wasn't exactly a story for the Teaser, just an idea of a giant Panda arriving on some mysterious planet like a boss. The design needed to reflect PANTHEPACK's dual personality – young and fun, but with an edge, a darker side. That was the seed of the night and day concept".
Director, Jaime Álvarez:
"This teaser was a perfect opportunity to visualize and produce a rich world of elements. Jackson wanted it to feel alive, so we brainstormed ideas for all kinds of vegetation, objects, and wildlife. We needed to stay mindful of the timeline though, as it wasn't realistic to create everything we were dreaming up".
Jaime:
"He didn't want the planet's inhabitants to be too cute or childish. They needed to have an edge. After some experimentation, we landed on the lovable yet devilish rabbits - relatively simple designs to model, but with a lot of character.
Having the chance to create a world full of characters was a dream for me, and the first time I was able to gather so many "evil" characters on one stage.
I especially love the party scene, where the rabbits are both cute and evil".
Visual Identity
Chris:
"Besides the reference, there was very little existing visual material to go on, just the original panda head - which needed to be revamped - and photos of the band members".
Jaime:
"One of the very first ideas TEAM WANG shared was to create cartoon heads for the band. They were a lot of fun to create.
We enjoyed experimenting with different textures for the 3D logos. One of our favorites was the cotton candy, which was also used for the teaser. The render settings were tricky to nail down, but it was well worth the patience".

"Creating a set of letters and icons for the PANTHEPACK alphabet was so cool, especially turning the alphabet into an actual font, including 2D icons, allowing anyone to simply type whatever they need.

I also love how the album turned out. It's awesome to see all the different design elements we created coming together to make up such an amazing physical album".
Launch
The band's line-up was announced in August, a supergroup comprising Jackson Wang, Karencici, ICE, and J.Sheon, soon followed by debut album The Pack. The first two music videos have already received over 10m views each, and tickets to the seven-city China tour were sold out within minutes.
Jaime:

"It's been so cool to see the fan art based on our designs rolling out, and all the positive comments flooding in from his fans. Working with Jackson Wang is a privilege - he is an inspiration to people who work around him. I enjoyed directing such a complete project, proud to be part of the first PANTHEPACK launch and to represent TEAM WANG. Big shout out to everyone that made the project possible!"
Chris:
"PANTHEPACK is in the vanguard of contemporary Chinese music, fashion and culture, and the band is crafting a really nice aesthetic for themselves. It's a pleasure to be able to play our small part in that process".
Credits
Production Company: Final Frontier
Direction & Lead Design: Jaime Álvarez
Client: TEAM WANG
Music: TEAM WANG & Final Frontier