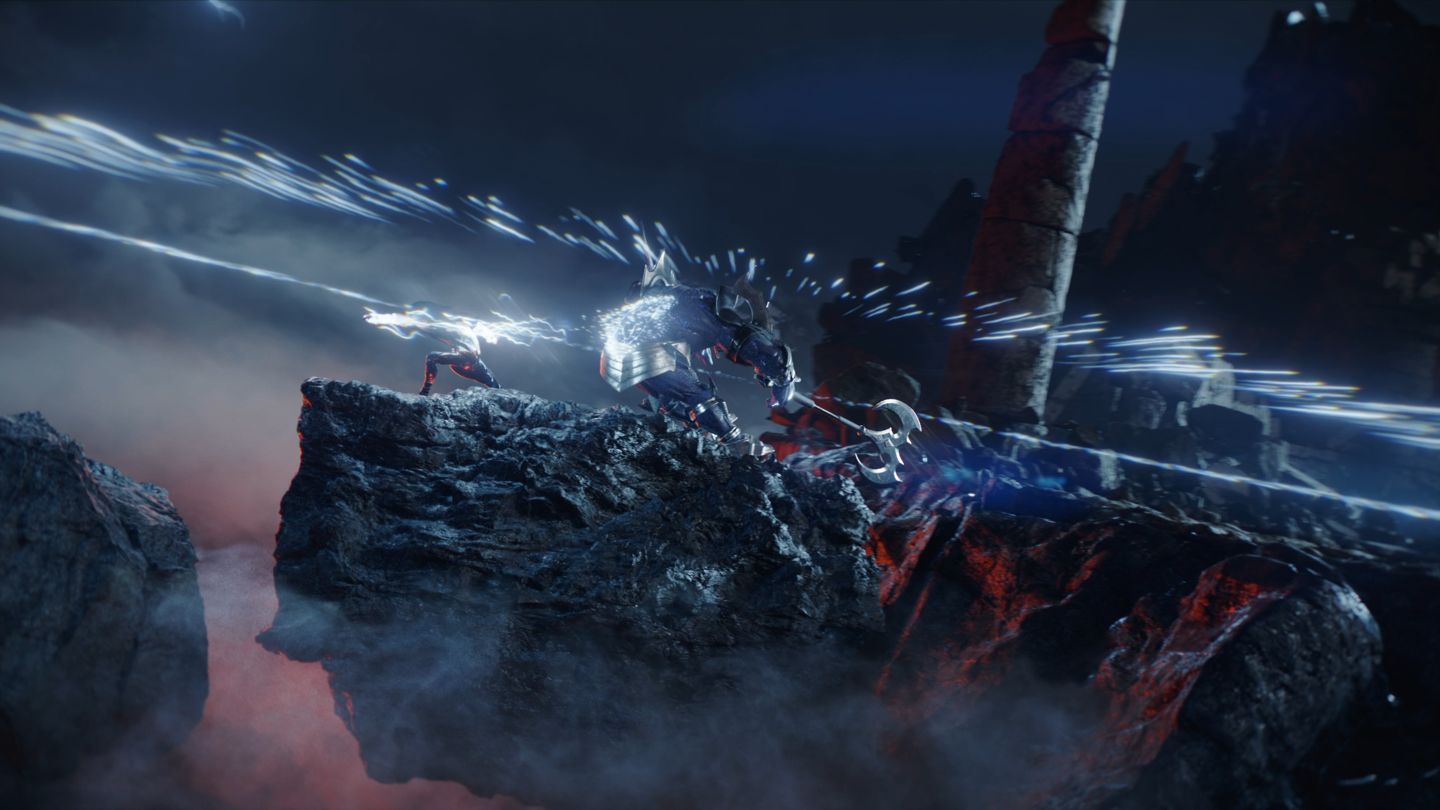 OPPO x League of Legends - There Is No Limit to ACE feat. FPX (DC)
May 19th 2020
Final Frontier produced a fantasy epic for OPPO to promote its new Reno Ace 2 phone, in collaboration with 2019 League of Legends World Championship-winning team, FunPlusX. The film was directed by Hans-Christoph Schultheiss, backed by Hamburg CG powerhouse, Sehsucht.
The 30-second spot features a mountaintop face-off between the FunPlusX team, represented by hooded CG avatars featuring elements of their actual LoL avatars, and a terrifying assortment of challengers. Upon completion of the project, Final Frontier confirmed Schultheiss would be joining its roster in Asia and the Americas.
Final Frontier executive producer Chris Colman, Schultheiss and Sehsucht producer, Tanya Curnow, take us through the process:
Brief
CC: We love these grand cinematic game pieces. They are always an enticing production challenge and the end result is always amazing. As soon as the brief appeared, we thought of Hans and Sehsucht. We'd been looking for the right opportunity to work together, and this character-driven, game-themed epic was just perfect.
H-CS: I've always been passionate about esports and video games in general. It's just so much more exciting to work on a project you can relate to on literally any level. If you're making a living from talking about fantasy warriors and magic spells all day long, something is going pretty well.
TC: There were quite a few artists on this project with a passion for egaming, so it was about channeling that into a cohesive visual language that spoke to both the essence of the League of Legends design, and an audience immersed in the egaming world. It was from the heart to the heart.
Challenges
H-CS: The balance between production timing and creative concept was a huge challenge. Everything needed to be created from scratch, visually and technically. All the departments needed to work hand in hand from start to finish. I am more than proud that we managed to craft a film without making compromises on quality or creativity.
CC: The initial challenge was finding solutions for the character design and the storytelling. With only six weeks from the get-go to launch, we needed a way to design, model and animate six visually impressive yet viable FPX players, their avatars as well as a diverse team of challengers. On top of that, the avatars needed to clearly represent the FPX team members, yet also feature elements of the actual avatars they used in competition. Our audience are LoL and FPX aficionados and would spot any inaccuracies a mile off. It was a complex juggling act to incorporate all these elements and make it work inside the demanding schedule.
TC: We had to find the sweet spot between character design, modelling and asset creation and kicking off 3D production in time to meet the delivery deadline. We had to take a creative and flexible approach to almost every step, switching out stand-in assets with finals right up until the end. It was only a few days before delivery that our statues finally had heads. Meanwhile, the Covid-19 crisis hit here in Europe, meaning two weeks in to production the Director, Producer, entire Art Department and other key 3D and compositing crew were working from home. Adapting quickly to remote work in the middle of full-scale production with all of the communication, data-exchange, and patience necessary, was a full team effort and a real credit to everyone involved.
Favorite scene
H-CS: My favorite is the moment when the first bad guy turns around, ready to rock, but gets crushed by Tian a second later.
TC: Same for me. Apart from being killer animation which captures so much expression even when no facials are visible behind the armor, the movement marries so well with the smoke effect emitting from the bad guy. The shot has action, is visual splendour, but also takes a moment to breathe at the end. It's a credit to Hans that he packed so much action and story into just 30", and it's because of moments in shots like this. There's also something so cool about the tiny ninja head-turn in the final frames of the shot where Tian's avatar appears in front of his statue.
CC: I like it when the camera pans across the FPX team, all poised for battle. It's a cool shot in itself, but also shows the avatars in their full glory. I know how much creativity and production ingenuity went in to their design, so it's really satisfying to see them showcased in that moment.
Working together
H-CS: Final Frontier is the ideal production partner. Highly professional and experienced and at the same time absolutely passionate about the art. That was some excellent team work.
TC: It was like meeting a new friend and recognising instantly all the shared values and how much you have in common. There's so much inspiration and also trust that comes out of that kind of a connection and I think that was key on this production.
CC: Hans and Sehsucht are absolute pros and showed it throughout this production, from start to finish. We couldn't be happier to have them with us on the roster. I cannot wait for the next one.