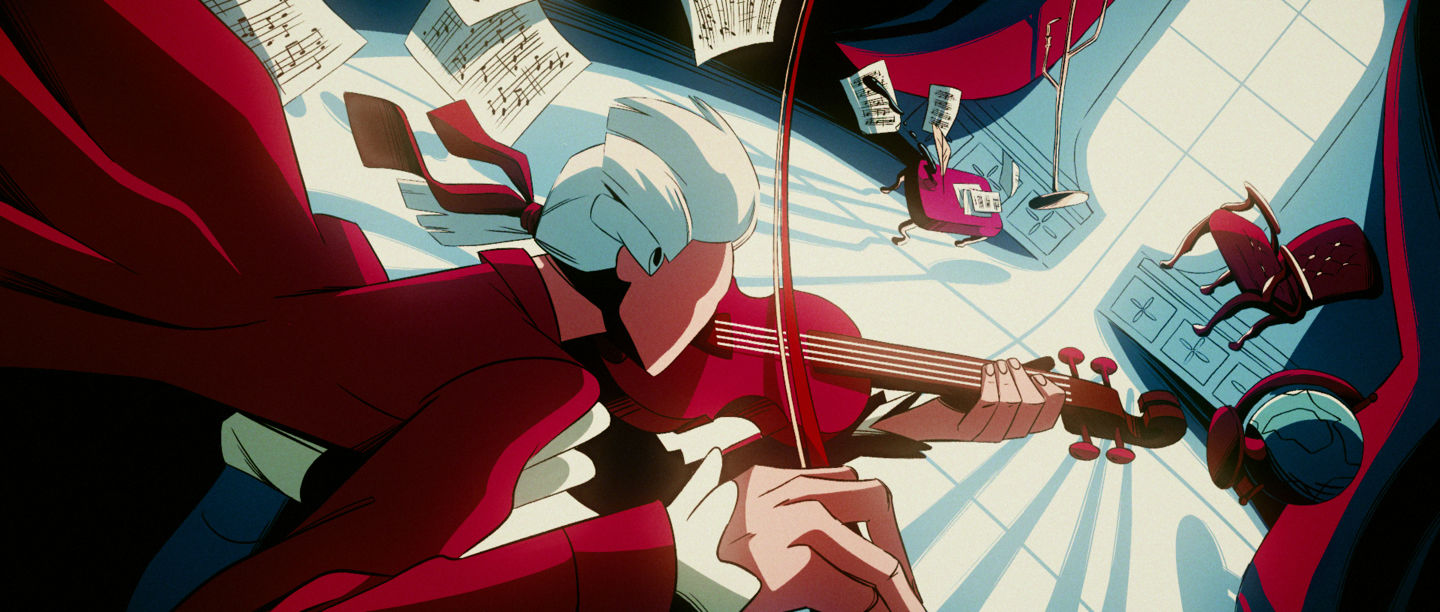 Mozart by Magnum
August 16th 2022
Magnum Honours Master of Music Mozart with Epic Remixed Mixed-Media Music Video
Created by LOLA MullenLowe, produced by Final Frontier and Proppa, and directed by Le Cube and Martin Werner, the music video mixes live-action and cel-animation in a surreal journey unblocking creativity.
Wolfgang Amadeus (Amadé) Mozart (1756-1791) was and continues to be an icon that fascinates people all over the world. Now Magnum is honoring the great Master with the first music video for one of his compositions – a remix of the first movement of his 25th Symphony. The premiere of the video 'MOZART by MAGNUM' took place on July 29th, 2022, at the composer's birthplace in Salzburg during a reception hosted by the International Mozarteum Foundation and Magnum. A special exhibition is open to visitors until September 11th.
From one classic to another: with this remix video, the classic ice cream brand aims to pay tribute to another classic, Mozart, as well as helping make his music more accessible and amicable to a broader audience. The occasion is this year's launch of their 'Magnum Remix' range, a reinterpretation of two popular Magnum ice cream classics.
The remix for the first movement of Mozart's 25th Symphony (G minor, KV. 183), translates the dynamic and power of the music into images that captivate and draw the viewer directly into Mozart's creative process. With his first piece in a Minor key, Amadeus Mozart – only 17 years old in 1773 – broke all musical conventions and the expectations of his contemporaries and patrons who were used to the former child-star's light, gallant, works in a Major key. The Musical Genius now presented himself as a mature composer with a piece that was more assertive, expressive, and passionate than any of his previous works.
Applying a mixture of live action scenes and 2D traditional cel-animation, the video provides an imaginary, fantastic insight into Mozart's creativity.
Tomas Ostiglia, Executive Creative Director at the creative agency behind the project, LOLA MullenLowe, comments: "It's a dream come true to be able to pay tribute to a classic like Mozart, creating his first ever music video for one of his compositions and mostly, to have it become part of an exhibition at his very own museum."
Linus Klumpner, director of the Mozart Museums in Salzburg, announced: "The International Mozarteum Foundation has made it its mission to show the life and work of Wolfgang Amadé Mozart from new angles and in innovative ways. The video remix developed for the current Magnum Campaign is a creative example of how Mozart can be reinterpreted in the 21st century. 'MOZART by MAGNUM' joins a series of exciting collaborations between the brand and contemporary artists. I am delighted that the video can now be shown to visitors from all over the world as part of a special exhibition in Mozart's Birthplace."
Ralph Karam, Creative Director at Le Cube, about the film, says: "It was a very deep experience to contemplate and dwell on the creative process of a genius such as Mozart, his confrontation with the creative block, and the loneliness and vanity that come as the price to pay for unique, other-worldly talent. The most interesting and powerful part for us was translating that 'Eureka' moment when you are not only inspired by an idea, but you are confident that it is the one."
Gus Karam, EP at Final Frontier about the process, adds: "It is not every day and with every Agency and Client that we work for, that we feel this kind of passion and high artistic sensibility as we felt for this project and during the process of the film along with LOLA. Of course, creating a tribute to Mozart involves a transcendental level of engagement, that we gladly delivered throughout the whole production. I'm also very happy to see a brand being bold, bringing to the spotlight an idol that so many times is sadly reduced to intellectual circles only."
Credits:

Client Global Vice President Ice Cream, Unilever: Julien Barraux
Global Brand Director, Magnum: Ben Curtis
Category Director, Refreshment DACH: Wolfgang Fritz Assistant
Brand Manager, Magnum DACH: Britta Seiffert
Agency
Creative Agency: LOLA MullenLowe, Madrid
Executive Creative Director: Tomás Ostiglia
Managing Director: Tom Elliston
Creative Directors: Kevin Cabuli, Jorge Zacher
Art Director: Diego Vieira, Yan Graller
Copywriter: German Rivera
Global Account Director: Oscar Fernandez-Baca, Flora Bell
Account Supervisor: Cristina Panea
Head of Production: Felipe Calviño
Producer: Jorge Saade, Diego Baltazar
Live-Action Production Company: Proppa (Propaganda Producciones)
Executive Producer: Pablo Martinez
Director: Martin Werner
Production Co.: Final Frontier
Animation Studio: Le Cube
Director: Ralph Karam
Executive Producers: Juan Manuel Freire, Fernanda Soma, Chris Colman, Gus Karam, Julieta Zajaczkowski
Line Producer: Antonela Castro
Art Direction: Franco Vecchi Art: Franco Vecchi, Gianluca Patti, Lena Vargas, Santiado Oddis
Animatic: Federico Radero
Animation Supervisor: Daniel Duche
Animation: Sebastian Pfeifer, Virginia Filiol, Carlitos Carranza, Barbara Espinosa, Guadalupe Vyleta, Fernando Lamatina, Manuela Calderone, Gabriel Diaz, Ana Artaza, Javier Marino, Facundo Garcia, Yas Hanna, Julieta Soloaga, Franco Pellicciaro, Alvaro Castellanos, Sergio Matteo, Leonardo Dias
Clean up Supervisor: Mariangel Idiarte, Paula Burdiel
Tie-down & Clean up: Paola Gonzales, Antonella Pitti, Carlitos Carranza, Julieta Soloaga, Juan Nachtt, Augusto Cortegroso, Leo Casalli, Gabriel Fumagalli, Sofia Rouco, Clara Riavec, Rocio Saavedra, Macarena Mercado, Emilia Ferreyra, Juan Pablo Barbesi, Julian Ortiz
Audio
Music: Symphony n25 in Gm K.183 Wolfgang Amadeus Mozart
Arrangements and production: Pietranera-Sancho in HeyFolks Studio
Recorded with Malaga's symphonic orchestra in Auditorio Centro Cultural MVA
Orquestra Director: Juan Pietranera
Mix: Felipe Guevara in Closed Studios