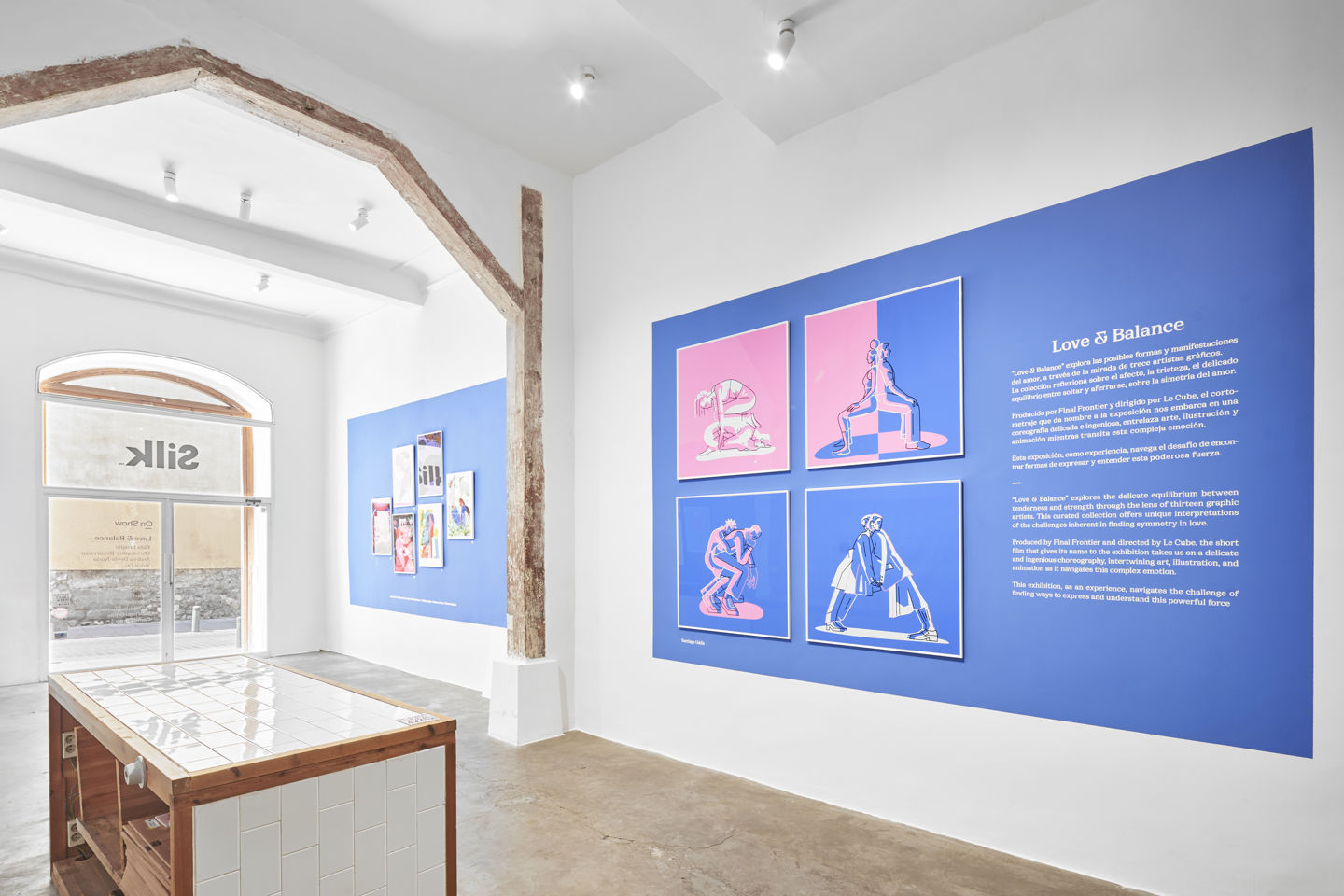 Silk Gallery Presents: "Love & Balance"
July 11th 2023
The latest exhibition at our Silk Gallery in Madrid features work by 13 artists, as well as an animated short film, directed by Le Cube.
Opening to coincide with Madrid Pride week, "Love & Balance" explores the delicate equilibrium between tenderness and strength with each artist visualising their unique interpretations of the challenges inherent in finding symmetry in love. All the participating artists work at the intersection of the commercial and the art worlds and have a background in animation.
Le Cube creative director and Silk Gallery curator Ralph Karam says, "Having closely followed the trajectory of many of the artists, it is a great pleasure to be able to bring together such talent in a single exhibition. As an animation director, I had the opportunity to work with some of them on commercial projects, and now being able to support their artistic translation is something that excites me greatly. It is one of the reasons why we founded Silk."
At the foundation of the exhibition is the short film "About Love & Balance". Produced by Final Frontier and directed by Le Cube, the piece is a love letter to love itself, as well as relationship dynamics that span its origins, trials, and heartfelt conclusion.
Le Cube creative director Santiago Oddis says, "I lost myself thinking about all my past relationships and how often they have had their own structure: good, bad, loving, boring, passive, aggressive, energetic, and so on. Still, I found all of them have this common thread, balancing of emotions. That kept me going, and I started crafting this animation."
The film artfully explores the intricate dance that unfolds between souls, interweaving visual motifs of affection and tenacity. It invites contemplation on the profound themes of both letting go and holding on, immersing the audience in an ever-changing, enchanting spectacle of animated artistry.

Silk Gallery opened in 2020, and officially joined forces with Final Frontier in March 2023. The gallery's mission is to celebrate design, illustration and contemporary art, by bringing together boundary-pushing digital artists, predominantly from the commercial world, and presenting their work in a physical environment. Through Silk, artists are given a rare offline opportunity to showcase personal and experimental projects that allow them free and unbridled expression beyond the constraints of commercial work.
Limited edition silkscreen prints of all the artist works are available to buy from the Silk Store.
Love & Balance Artists

Elda Broglio
Chris Delorenzo
Andrea Devia-Nuño
Yukai Du
Petra Eriksson
Marylou Faure
Marcos Farina
Fabrizio Lenci
Rafael Mayani
Eugenia Mello
Fernando Molina
Santiago Oddis
Camila Rosa