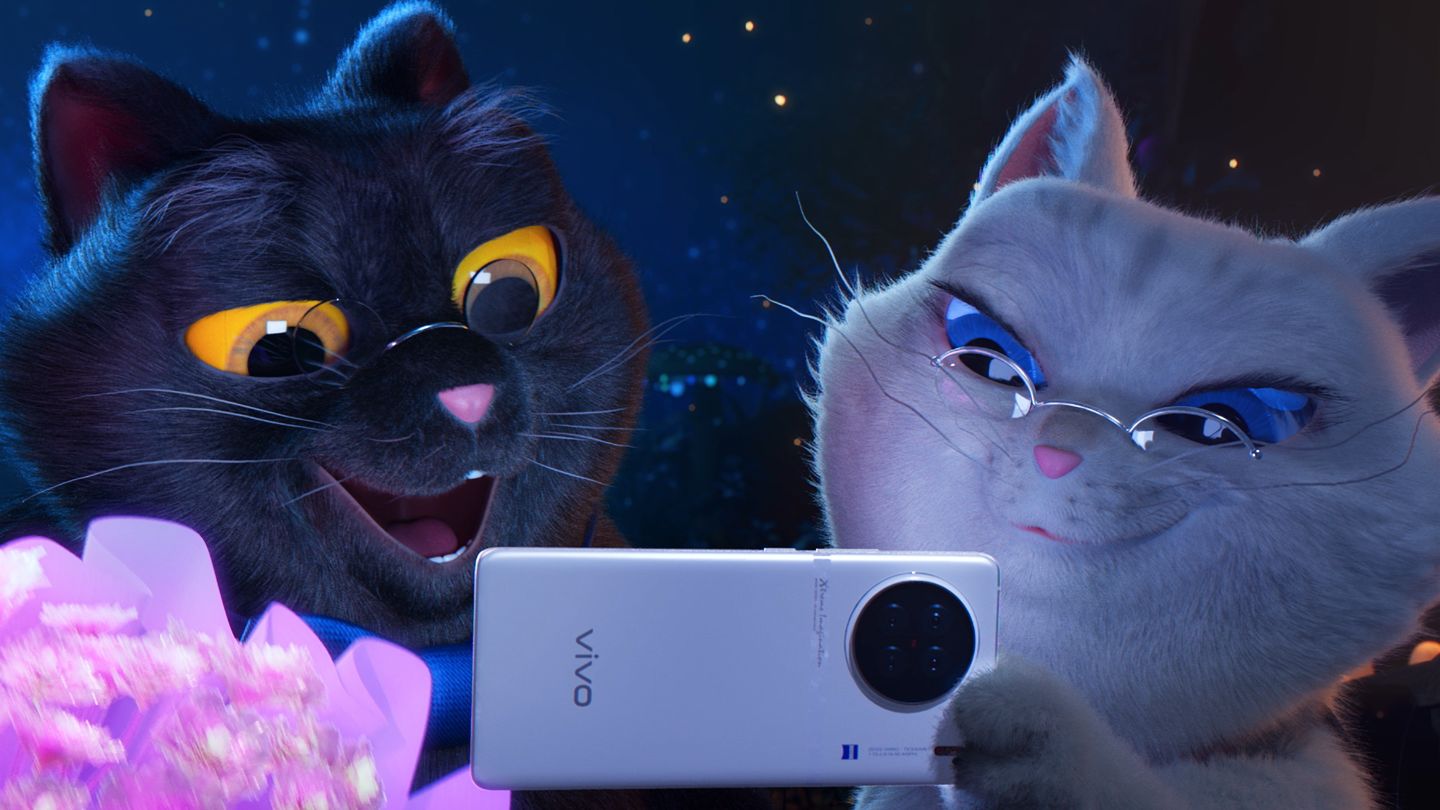 vivo - X90
April 10th 2023
Final Frontier joined forces with agency KARMA once again to tell a feline love story showcasing vivo's X90 device, with a focus on its low-light shooting prowess.

vivo X90

Returning to the nocturnal wonderland of the first episode, the story centres on Grandpa Cat, a lifelong lover of amateur dramatics. Despite his passion for treading the boards, our hero always found himself playing a supporting role. With his final turn before retirement threatening more of the same, Grandma Cat looks to the vivo X90's low-light shooting function to capture her husband's performance in crisp glorious detail, giving him one last moment in the limelight. As the film's slogan reads, "With love, we can make great things happen".
KARMA devised the overall concept, world and script. Final Frontier, director Paulo Garcia, and Zombie studio designed the characters, developed the storytelling and produced the animation.
Garcia's team, Zombie, is one of the world's top-tier commercial 3D character animation studios, winning dozens of the industry's most significant prizes.
KARMA share their insights into the overall campaign:
On the cat world:
Basically everyone loves cats, so we liked the idea of a cat planet. At the same time, we needed to highlight the product's selling point, so we came up with the idea that the sun had disappeared and the planet is a nocturnal wonderland where many of the plants have evolved to have a magical glow.
On choosing animation:
We felt that 3D character animation, along with especially cute cats, could really capture the hearts of the audience. Vivo's previous commercials were previously more inclined to the classic film TVC, and the client wanted to try something different. They were pretty much sold on the concept from the start.
On the challenges:
The main creative challenge was to tell a story that was closely related to the key selling point of the product, all the while making sure that the flow felt fresh, and not too stiff. In terms of production, it was a tight schedule and there's always potential challenges with global time differences between the client, agency, and animation team. Thankfully, it was a communicative and cooperative process, and everything went smoothly.
On the outcome:
The first film was so well received that the client decided to continue with the sequel and so far that's also been very popular. The end results exceeded everyone's expectations and the audience absolutely loved them both! I think that's down to great animation, a heart-warming story, and the super-cuteness of the cats.
Final Frontier executive producer Chris Colman adds,
To date it's rare in China to find a client bold enough to go with full CG characters, especially with a brand new, self-created IP. So, big respect to Vivo for taking that courageous step, and to KARMA, for their creative vision, and for having such a good read on the market about what will resonate. We've been happy to partner with both to craft two wildly popular films so far. There's a lot of potential with this story world. We're excited to see what comes next.
The campaign launched exclusively in China and included a WeChat pop-up platform.
The film marks the second collaboration between Final Frontier, KARMA and Vivo, following the first episode in 2022, in which Grandpa desperately seeks a solution for his annual wedding anniversary photograph, before divine intervention sends him the new x80 device. The film was well received by viewers and award juries alike, picking up prizes at One Asia International Creative Awards, Long Xi Creative Award, DIGITALING Awards, and London International Awards (LIA).
vivo X80
Credits

Client: Vivo
Creative Agency: KARMA
Production Company: Final Frontier
Executive Producer: Chris Colman, Gus Karam, Phoenix Xue, Julieta Zajaczkowski
Executive Creative Director: Claus Cibils
Project Manager: Miranda Tsetskhladze
Animation Production: Zombie Studio
Director: Paulo Garcia
Executive Producer: Natalia Gouvea
Executive Creative Director: Daniel Salles
Producer Director: André Carvalho
Art Director: Marcelo Garcia
CGI Director: Wesley Oliveira
CGI Technical Consultant: Isaac Buzzola
Agenda Coordinator: Kira Nayana
Account Management: Gabriela Leal, Stephanie Wang
Storyboard and Animatic: Gabriel San Marcos, Saulo Brito, Geraldo Sampaio
Concept Artist: Marcelo Garcia, Pedro Minho
Lookdev Lead: Claudio Jr.
Lookdev: Giovanni Kososki, Ricardo Alves, Claudio Jr, Lélio Alves, Nicolas Aquino, Camilo Franco, Alexandre Trevisan, Douglas Silva
Lighting: Letícia Fagundes
Grooming: Lucas Amaral
Model Lead: Raul Sales
Model: Vitor Semeghini, Ricardo Alves, Raul Sales, Alisson Perin, Lélio Alves, Douglas Silva, Nicolas Aquino, Camilo Franco
Environment: Ale Barbosa
Set Dress: Raul Sales
VFX: Gabriel Marcondes, Alexandre Canário
Rig: Henrique Ribeiro, Felipe Gimenes, Marcos Leite
Animation Director: Paulo Garcia
Animation Supervisor: Alex Ferreira Simões
Technical Animation Supervisor: Gustavo Figueiredo, Lucas Mirkai
Animation Casting: Agora Studio
Animation: Angela Bakmam, Anthony Daniel, Carina Henriksson, Chaiyapak Panaviboonporn, Eliza Aleksanyan, Fabio Pugliese, Jeffry Syahputra, José Ragazan, Juan Diego Zapata, Moise Hergaux-Essame, Puneeth Bagur, Tim van Dulmen
Composition: Letícia Fagundes, Isabela Ferrari, Paulo Chedid, Igor Bezerra
Motion Graphics: Vinicius Kahan
Art Designer: Kaike Gouvea
Assembler: Enrique Pedretti, Carol Nicolletti, Alisson Perin
Financial: Alessandra Cena
TI: Gabriel Paixão, Rodolfo Cultiz
Audio Production: Antfood Music & Sound Design
Music Director: Lou Schmidt, Fernando Rojo and Tiago Lins
Executive Production: Christiane Rachel and Renato Castro
Composers: Lou Schmidt, Fernando Rojo, Luis Bergmann and Vinicius Nunes
Producers: Fernando Ianni and Monique Munhoz
Sound Engineers: Bruno Broaska, Fabian Jorge and Pablo Homem de Mello