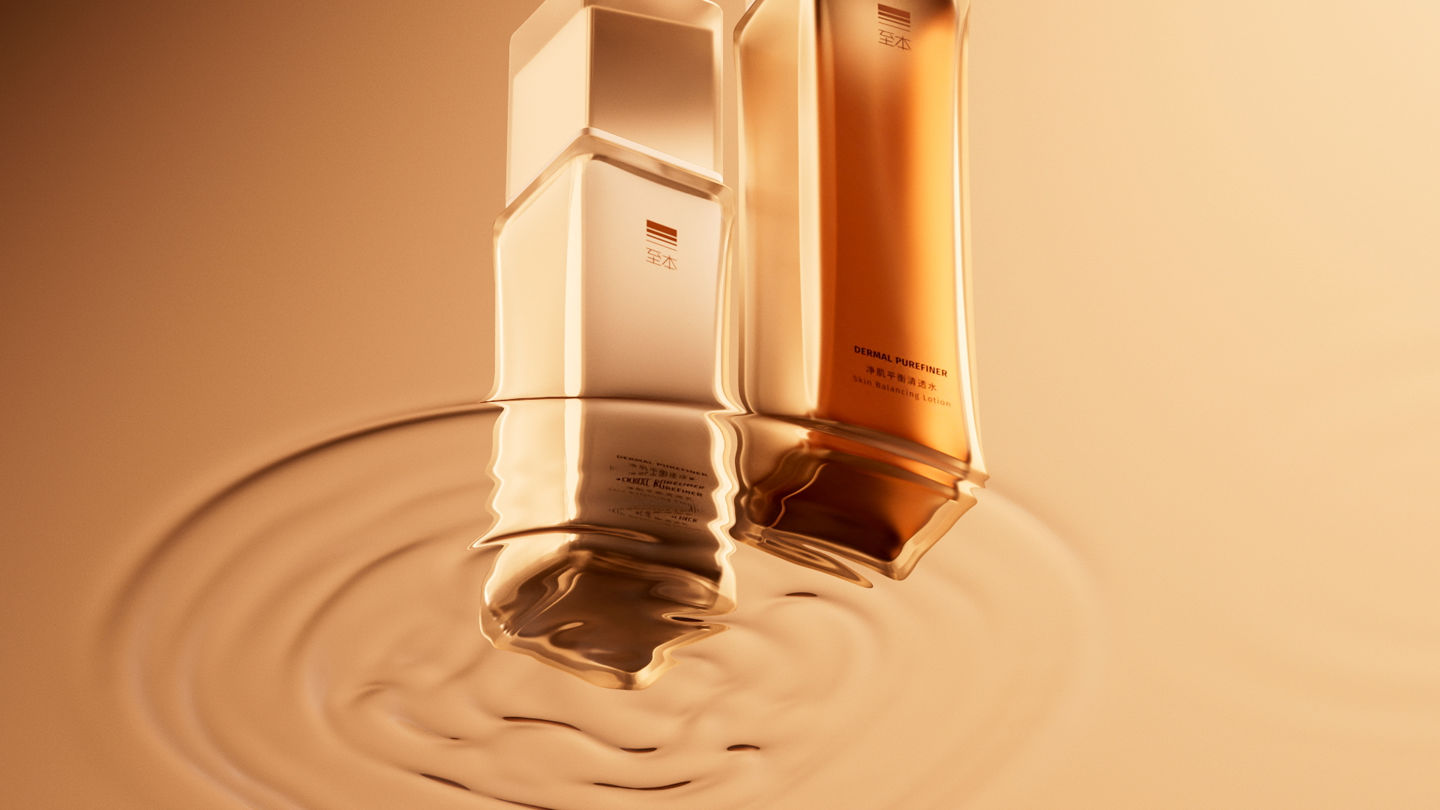 Zhiben - Lotion & Emulsion
September 11th 2023
Final Frontier and Playful's new spot for ZHIBEN showcases the skincare brand's new Lotion and Emulsion products, drawing particular attention to the upgraded user-friendly pump head feature.
The latest release in ZHIBEN's popular Dermal Purerefiner series, the multi-functional products treat greasy or acne-prone skin by bringing balance to the oil and water levels.

Rendered in light, tactile 3D motion graphics, the film softly guides viewers through warm landscapes, with the close interplay between the products and the tranquil environment hinting at a soothing skin ritual.
Playful creative director Pablo Alfieri says,

"The idea of reinforcing the dual use of the formula was a key point of the brief. We drew inspiration from the synergy between the products. Our previous film for ZHIBEN was a ballet, so we stayed with that idea, only this time trying to cast the textures as protagonists."
He adds,
"The aesthetic exploration was centred around how to bring to life a sense of balance and sophistication, besides the contrast of textures. The colors helped us nail the tone of the film; a mixture between light and transparency, orange tones against the off-white emulsion textures. That helped achieve a sophisticated and elegant atmosphere, where the products dance and are presented together as an inseparable pair of stars."
Lotion & Emulsion is the first in our new series of ZHIBEN films set to drop in 2023, and marks another chapter in our ongoing collaboration. We started working together in 2020 and to date the partnership has borne more than a dozen films. We're proud to have played our part in shaping the ZHIBEN's natural and fresh visual personality, and in a crowded marketplace helping them stand out as design trendsetters.
Credits
Client: ZHIBEN
Production Company: Final Frontier
Animation Studio: Playful
Director: Juan Coria
Creative Directors: Pablo Alfieri (Playful), Claus Cibils (Final Frontier)
Executive Producer: Gus Karam, Julieta Zajaczkowski, Eric Zheng
Project Manager: Wei Zhou
CG Coordinator: Agustina Santkovsky
CG Artists: Juan Coria, Fede Bogado, Nacho Velazco, Macs Riedel, Sergio Fuego Head of Production: Mary Antonieta Lopez
Creative Team: Agustina Kröl, Natalia Fernandez, Sid Osna
Sound Design: Facu Capece