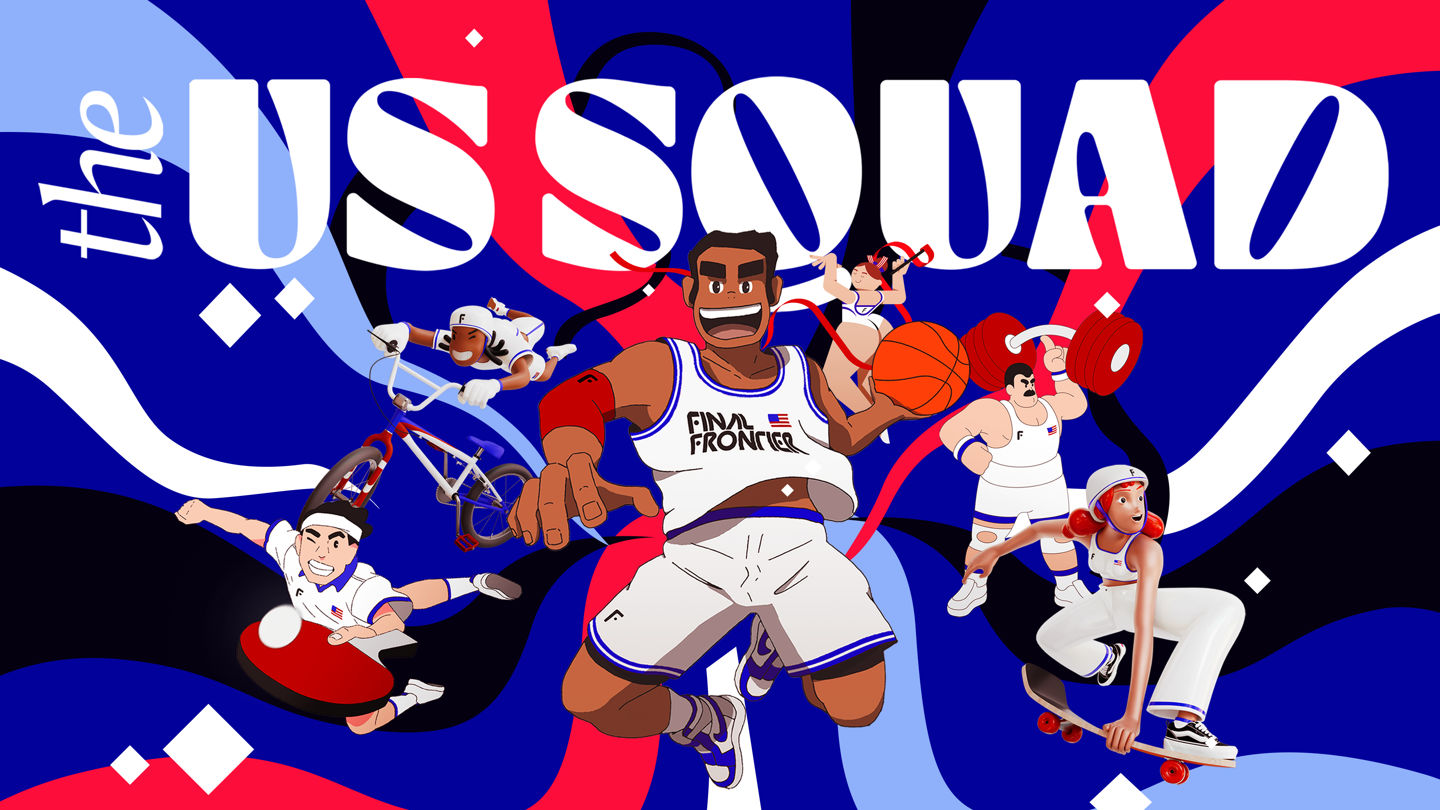 Final Frontier Officially Opens for Business in the US
November 15th 2023
We're beyond thrilled to officially announce our presence in the US market, bringing a unique roster of exclusive directors as well as a key leadership hire in Los Angeles.
Final Frontier Reel 2023
We've already collaborated with numerous North American brands, including the Clio Award-winning "Designed to be Deleted" campaign for Hinge, with agency Opinionated. We're currently in production of "Forever Bold", a major 360 rebranding campaign for the Clio Awards.



Clio Awards | Forever Bold
Earlier this summer, we crafted "The Knu Stack" for Vans, a 3D naked-eye billboard in the heart of New York City featuring a full CG version of musician Little Simz, made in collaboration with roster studio, Woodwork.
asdasdsaasdasdsadadsadasdasdas|





Vans | The Knu Stack

Final Frontier will bring a US-exclusive roster of directors and studios, comprising a potent and eclectic combination of established names and rising stars in animation, oriented toward high-end design and characters, bolstered by a global network of directorial talent.
The diverse collection of talent runs a comprehensive range of techniques, from Nordic minimalism for CG products, to vital characters and narratives in 3D, 2D and collage, to long form storytelling from the studio behind Love, Death and Robots episode 'The Dump'. The full US-roster comprises Able&Baker, Blinkmybrain, Blirp, Dirty Work, Frame, Lobster, Nerdo, Noisegraph, Toggle, and Woodwork.
Specialising in high-end animation across multiple techniques, our US-dedicated offering boasts particular depth in Gaming, Beauty, and ultra high-end CG products for luxury and tech brands.
TAG Heuer | Super Diver - Directed by Frame

North American operations will be led by award-winning executive creative director, Claus Cibils. Buenos Aires-born, Caracas-raised, and Los Angeles-based, Cibils brings more than two decades of multi-industry expertise in audiovisual productions across four continents. In executive creative and production roles at DIRECTV and various high-end content studios, he has delivered advertising, digital, social media, NFT, and XR campaigns for global brands including AT&T, HBO, Coca-Cola, DELL, Amazon, Mercedes-Benz, PayPal, NBA, NFL, Khiel's, CBS, Nickelodeon, Nat Geo, and Disney.
Claus Cibils

On Claus' incorporation, Gus Karam, Final Frontier co-founder says:

"Very early on in my career I learned that our business is ultimately about people, and for a long time I was searching for someone with whom I felt real synergy to make our dream of expanding in North America a reality. I'd admired Claus since working with him as a client, and felt we were aligned on our values and creative vision, so it's a huge pleasure to have him on the same side of the table, embarking on this adventure as part of the family".
The new office adds a North American presence and another timezone to Final Frontier's existing facilities in Madrid, Shanghai, and Buenos Aires. The company is built upon a world-wide production pipeline and with executives, creative talent and production staff from four continents, strives to bring a global sensibility as well as highly localised expertise.
Claus says,
"I immediately felt a kinship with Final Frontier, as a company with a truly international mindset and culture built into its DNA. In this ever-more connected world, brands are crying out for stories reflecting all perspectives drawing upon a rich range of cultural references. With a diverse, multicultural crew spread across the world I found a team perfectly equipped to bring that magic combination. We're a global company for a global world, and I'm pumped to be part of it."
Tencent | Legends Live Forever - Directed by Nerdo

Final Frontier's working model is based upon an agile and efficient global talent network, bolstered by an experienced production team and an in-house team of creatives, led by Cibils.
On Final Frontier's USP, Claus says,
"We believe in a boutique approach, which means nimbleness and adaptability to each project's specific requirements, and bold, enterprising solutions. Adaptability, versatility and agility. We're able react to the needs of the client, yet keep the essential process to deliver on time and to the best possible quality. We're constantly examining the best ways of doing things, and we're certainly applying a very open mind to our US clients. We don't believe in relying on doing things the way things have always been done. We're ready to listen carefully to what the market is looking for and how things can be done better."
On Final Frontier's goals in the US market, Cibils adds,
"Our goal is to push the creative standard of every pitch, and broadly play our part in raising the bar on the quality of work in the market. We're bringing an unreasonably high level of hunger and drive as the new kids on the block, absolutely confident in our capabilities, but with a zero tolerance policy toward complacency. We want to grow steadily and sustainably, bringing our own distinct vision for the kind of work we want to make, yet remain sensitive to the creative needs of the client. Over time we want to be widely recognised as genuine contenders for every major project."
The US expansion comes from our well-established base in China and the APAC region. Our Asian client reel includes top tier international brands like Nike, Airbnb, Ritz-Carlton, BMW, and League of Legends, and ongoing partnerships with many of the biggest Chinese brands, including Tencent, vivo, and gaming giant, Netease.
Netease | Naraka Championship Trailer - Directed by Hanzo

We're proud to be one of Asia's most awarded production companies, with projects recognised at D&AD, Clios, Cannes Lions, Promax, Motion Awards among dozens of other Asian and Global awards across advertising, design, and creative festivals.
Alongside our commercial reel, Final Frontier has also provided production services for major long form content projects like HBOMax shows Unicorn Wars and Poor Devil, and 2021's The Descendants, Disney's first 2D cel-animated film in over a decade.
Founded in Shanghai in late Spring 2018, our decision to establish headquarters in Asia bucked a trend of premium animation production companies opening facilities in the North American market. Gus says,
"We're curious and adventurous souls, and it's in our nature to blaze trails and dig where the ground isn't necessarily softest. That's served us really well because Asia has proven to be an amazing base from which to build a killer reel of world-class projects with top tier clients, not just as executors, but as creative partners. Fast forward five years and we've got the reel, the clients, the team, everything we had determined we'd need in those early meetings to 'break America'".
In 2022, we announced we had invested in Silk Gallery in Madrid, dedicated to showcasing graphic artists in a physical space, and providing a hub for the global art community.
Silk Gallery

Let's talk? Hit us up at claus@finalfrontier.tv
*Cover Image by Lobster